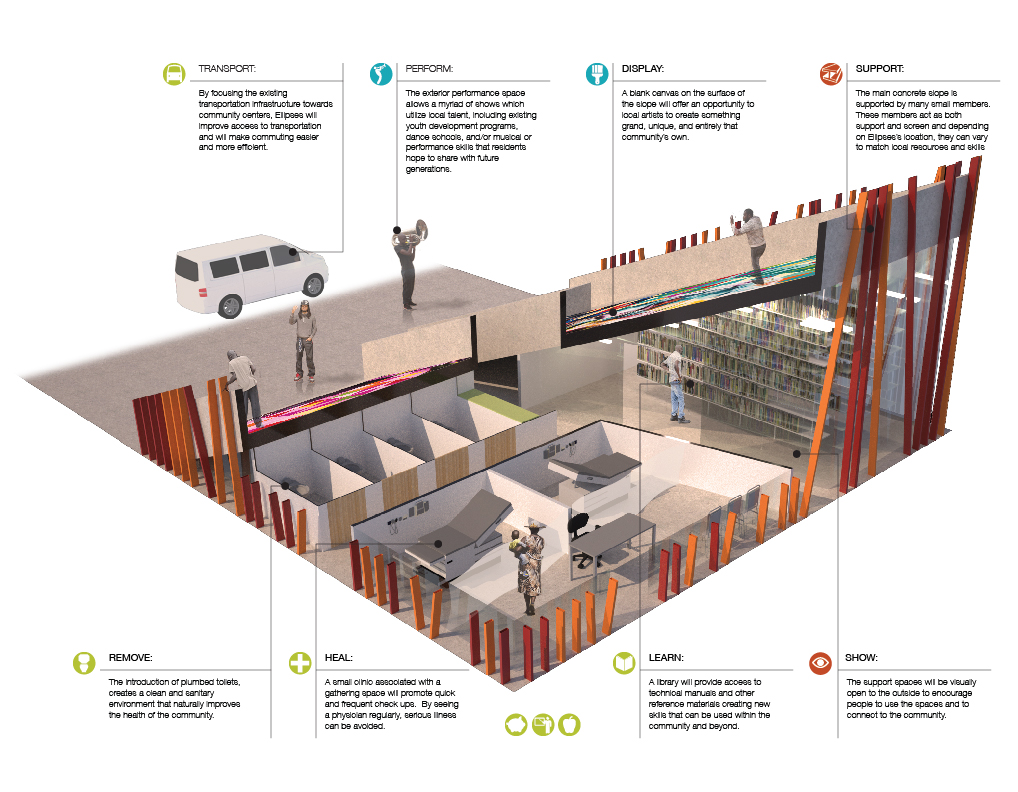 Team | Patrick Morgan, Simon Morgan + Jhanea Williams
Status | Competition Entry
As an entry in the Dencity Competition sponsored by Shelter we were asked to "foster new ideas on how to better handle the growing density of unplanned cities and to spread awareness of this massive problem. Contestants should consider how design can empower communities and allow for a self sufficient future." Our perspective on this problem is answered by Ellipses.
Informal housing settlements exist across the globe. From the Cape Flats in Cape Town, South Africa, to the Favelas of Rio de Janeiro, Brazil, slum housing is both a ubiquitous and necessary part of the developing world. In most cases of slum settlements, the goal of the settlement's development is to provide a location for residents to have better access to major cities – including their economies, their services, and hopefully their established housing stock. While slums aim to provide access to those cities, cost of transportation into and the lack of a network of connections within the city are often prohibitive.
In order to provide improved access to services, and to improve the network of connections within resident's relatively new cities, Ellipses will become a community space for low-income housing neighborhoods. Ideally situated between slum settlements and established low-income housing, the facility will act as a community center, performance space, and provider of necessary services. In addition, the design allows for the introduction of plumbed toilets, creating a clean and sanitary environment that naturally improves the health of the community.
Ellipses, most importantly though, is a blank canvas. The space is designed to suggest to users that it is rising from Earth, inviting community members to come explore its offerings, while also embracing visitors once they have entered the space, and subsequently encouraging them to stay. The exterior façade will be constructed of local materials, all of which will be decided upon by community stakeholders. The facilities inside of the structure are also open to suggestion. Although the drawings suggest a small clinical space and potentially a library, the intent is that the community will be offered an opportunity to develop whatever resources they feel are most necessary for their advancement. Potential other purposes, aside from our initial illustration of a clinic and a small library, include a small bank, offering microloans and a safe place to keep earnings, or potentially a job-training center, offering classes in necessary skills to enter the workforce.
Once the hours of the day have exhausted the required use of the facilities, residents will have an opportunity to gather further, turning to the exterior performance space and any myriad of shows which may be going on. Utilizing local talent, including existing youth development programs, dance schools, and/or musical or performance skills that residents hope to share with future generations, the space will aim to become a place for learning, collaboration, and ultimately networking to build even stronger relationships. In addition, the space will first be presented as a blank canvas, offering an opportunity to local artists to create something grand, unique, and entirely that community's own.
While Ellipses focuses on becoming a space to gather, it will also become a necessary hub of transportation. By focusing the informal transportation systems that currently exist towards single community centers, we are able to formalize and localize access to transport, improving the existing structures to better serve a wider range of riders. The ultimate goal of this focus is to improve the system's ability to utilize other means of transport, including trains, city buses, and other formalized transit structures. Improving access to transit through focused localization makes disparities more apparent, and hopefully allows the community to gather around identified gaps in the system.
In its proposed format Ellipses aims to serve an estimated 150 individuals on a daily basis. With a performance capacity for about 60 individuals and service access for local residents that can manage many more, the space aims to become a personal and highly unique community center, providing improved transportation access and necessary community services. In addition, the relatively inexpensive design and small footprint make the space easily replicable and quickly introduced into locations that are underserved by existing community centers. The space can also easily be built and situated along major transportation routes, improving the speed of transport into the city. By building along major routes, the space also fulfills city development goals of reducing sprawl and increasing density. It does that through flexible design, creating an easily inserted space that fulfills very specific needs of the community.